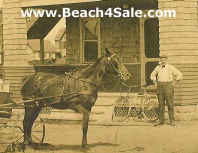 You can't sell from an empty wagon … Words of Wisdom passed down from my Grandfather, and worth their weight in Gold.
A properly priced listing is already half sold, and in Today's market ACCURATE PRICING can generate a flurry of activity and MULTIPLE OFFERS.
There's a NEW Economic Reality and Resort sales have been strong with PROPERLY PRICED listings lasting on the available market for just Days, not Weeks !
Many people continue to feel wealthy and are investing their earnings in housing at the Jersey Shore.
Baby boomers have reached their peak earning years and whatever the short-term changes ion the economy, have ample resources to reach out for their Dream Homes, choosing the Jersey Shore as their destination of choice.
We believe that PEOPLE sell houses, and your home needs exposure to people as well as Realtors. In today's market MLS exposure isn't enough. Elite Property Group utilizes cutting-edge marketing techniques to get Your home SOLD.
Elevate Your Expectations ! We'd love the opportunity to assist you in reaching your Goals.
View our Elite Property Marketing Plan
What's My Home Worth?
Complete the required information about your home and receive a FREE analysis of your home's approximate value on the market today.